The Secret Room of Giuseppa Filangeri di S. Marco (Oils & Watercolours)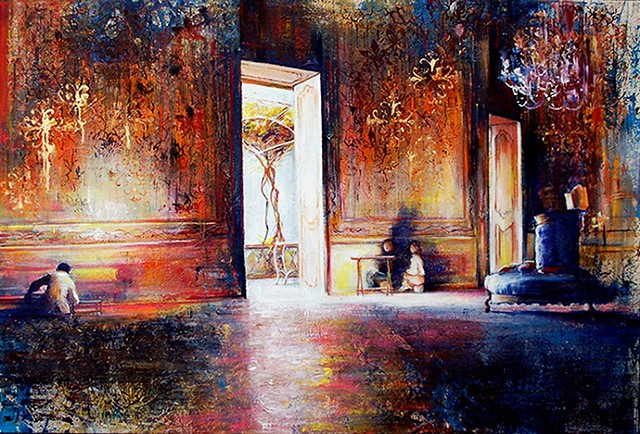 Toronto-based artist Jacqueline Treloar creates a moving statement with this dramatic collection of oils and works on paper, a record of her time living in a curious apartment carved out of the inner walls of the main courtyard of Palazzo Aiutamicristo in Palermo, Sicily. Divided between two galleries, The Secret Room of Giuseppa Filangeri di San Marco evokes the intimacy and personality of the lavish cabinets popular among the Renaissance aristocracy. These private spaces were devoted to the display of an often eclectic variety of prized keepsakes, cosseted artworks, and exotic curiosities. Brought together in the name of a imagined noblewoman, Treloar's paintings in The Secret Room portray the intimate spaces of an illustrious Palermitan Palace and its dramatic urban surroundings, worked in oils on large textured canvases and coloured inks on paper using brushes, rollers and stencils. The jewel tones and multiple layering capture the excesses and extremes of the ancient, crumbling city, a culmination of some two thousand years of occupation and invasion.
Palermo is dense with ancient dreams and monuments, startling colours and contrasts.
It is not for the weak of heart. For the adventurer and visionary explorer, however, it offers up its bottomless wealth without restraint. The centuries have molded its antique face, and its complex urban conformation reveals a long and tormented story. The Secret Room of Giuseppa Filangeri di San Marco is a selection from Treloar's private cabinet of intensely personal and vivid experiences in this richly secretive city.
Gallery 1313, Toronto
After World War II the inner city centre was abandoned to ruin and decay, a third of it destroyed by the intense allied bombing of July 1943 and left to rot by the devastating political corruption of the sixties. During her stay in the early years of the millennium Treloar witnessed the slow beginnings of reclamation of this heritage, represented in the exhibition paintings of ruined churches that have been until recently playgrounds for children, storage areas for every imaginable produce, and even stables for horses and donkeys. One of the most famous monuments in the city centre is the Palazzo Aiutamicristo, built in 1490 and located in the heart of the old Arab Kalsa quarter of the inner city. The palace ballroom, scene of a number of the exhibition images, was added to the side of the original palace quadrangle in 1780-81 under the ownership of Don Aloisio Moncada. The palace is presently divided into two parts, with the Calefati family owning one half and the Sicilian regional government restoring the other portion.